Welcome contacters, movers, artists and curious people!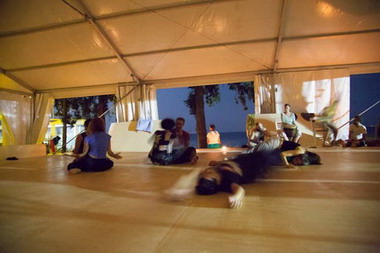 We are very happy to announce the second edition of the Jam of Arts Festival!
A full of new ideas festival dedicated to contact, movement, improvisation and arts.
The location we have chosen is a wonderful place in north Greece beside the sea, full of greenery, sand, sun and shadow. The camping is at a kilometre and a half from the village Nea Kallikratia.
In this festival the objective is to have everyone new experiences and explore different ways of perceiving and acting.
The idea is to offer to participants an opportunity to study Contact Improvisation, as well as to discover how the body interacts with other art forms. The aim is to explore different capacities and possibilities that exists in us and add in this way new ideas and experiences about dance, movement, expression, communication, knowledge of our bodies, and of our creativity.
The goal is to explore different skills and capabilities that exist within us and enjoy!
The guest teachers have been chosen very carefully and we guarantee their quality, talent and preparation on their own disciplines.
We will have intensive workshops with:
Eszter Gal  (6 lessons - 18 hours)
Kostas Gerardos (4 lessons - 8 hours)
Lorenzo Sansoni (3 lessons - 6 hours)
Ippokratis Veneris (3 lessons - 7 hours)
Aliki Dourmazer  (3 lessons - 6 hours)
Metodo Feldenkrais  (3 lessons)


In the photo gallery you can see photos from the festival the previous year.
Note: To participate to the festival you don't have to be dancers or professional artists since the festival is aimed at people who want to experiment with art and movement regardless of whether they have prior experience.
Why call it the "Jam of Arts" festival?
We believe that human nature still has much to offer us, has a very big knowledge and wisdom. With this festival we will try to make a research and a journey through this nature.
We believe that the arts coexist in human beings in a unique way and that the body and the human beings acts through arts or at least they should.
Everybody can explore this "body knowledge" using the mind in different ways, expanding ways of perceiving ourselves, the space around us, our nature and our lives.
With this in view, this festival will offer new experiences by exploring different modes of perceiving and acting.
Study (through "Contact Improvisation," as well as different art forms) other possibilities and capacities in us and in this way add new tools in us as "movers" and maybe use them in our jams and life.
For this reason our various teachers eachone provides different skills and viewpoints on their artistic specializations, their ways of exploring human nature.
It is a collection of different people, with different experiences and different styles where we can all learn from each other and teach one another!
So you are welcome to enjoy this adventure with us in this beautiful place!
Thanks.
The staff